Happy Fuckin' Everything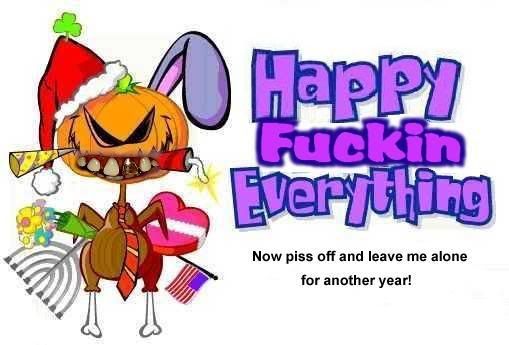 Seemed like a good time to say it.

What a year 2009 has been...Despite
an initial grim outlook brought on by the recession, office fire, swine flu etc etc, I think we've done rather well on the whole. I'm still in one piece anyway. Plus, loved ones all safe and sound, not forgetting a roof over our heads, so that's got to count for something.
There are many who can't say that.

I even managed to get along with the voices inside my head.
One of them, rather worryingly, tried to convince me that our back garden would be a good location for a rocket launchpad. I could foresee funding would be a huge problem. But I wasn't prepared for the council to turn down my planning application. They didn't say why either.

Ah well, back to the mundane...

A few days ago, I came across an application on Facebook that builds a summary of all your status updates for the year, and noticed something interesting. A lot of my messages were food-related. Because of that, I ended up creating two collages, with the second one minus the culinary obsession.

I couldn't fit it all in...It's a bit like reliving your memories, though I ought to stop since this is making me drool. I had cake and Hoisin Duck rolls just now, but already I am feeling peckish...again. I think there may be another box of chocolates lying around.
Even after removing statuses that mentioned anything edible (quite difficult since there were so many), I still had trouble getting the rest on. Hmm...Random selection isn't the best way to get an accurate picture what I got up to really. A year is a long time after all!

Anyhow, the past is the past and we have to move on.

I haven't got a new year's resolution, although I do have certain projects lined up that may cause me to blog less often...such as re-vamping my site and building a Retro Radio PC. Hmm...Didn't we have the same conversation last year?

We shall have to see...In either case, I'd like to wish everyone all the best for 2010. I'd drink to that, only I'd rather be the smug bitch now smirking at everyone who's got a hangover from last night. It's great being teetotal!

Labels: Culture, Entertainment, Lifestyle, Media, Personal, Philosophy