Can't possibly be the same perv...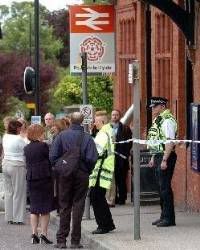 "Transport police have confirmed a woman
was sexually assaulted at Poulton railway station.

As revealed by The Gazette on Wednesday,
officers were investigating claims by a 21-year-old
Poulton woman that she was assaulted following
a journey on the 11:11pm train from Manchester Piccadilly
to Blackpool North.

And now officers say they are keen to
hear from witnesses stating they believe a
sexual assault took place at the station and
NOT on the train as previously thought."
Good grief! This reminds me of the pervert who sexually harassed me at that exact station a few years ago (in broad daylight too!), and then lay in wait for me on MY side of the platform when I had to take the train again the next day (even though he never got on the one for Layton / Blackpool where I was headed, which gave me the impression that he was going the other way...towards Manchester).
I got lucky both times as people appeared before he could take things any further. (At one point of time, he was trying to force my skirt up!)
Thankfully, my job was only part-time then. I decided to start later and finish work together with the rest my colleagues so someone could give me a lift home instead, which meant I didn't have to take the train anymore. At the time, I thought if I just ignored the 'problem', it would eventually go away. (Plus, it's not like I had any proof.)
I really hope the decision I made then will not come back to haunt me now.
Relevant Article:
Poulton Sex Attack - Police Appeal