Noughtie by Nature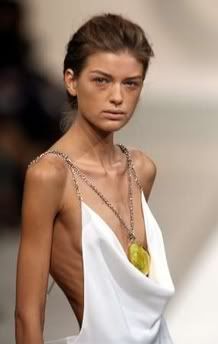 Before I lunge headlong into one of my rants, I want to make one thing clear...This is just not right.

How could this look EVER be attractive?

Model agencies usually have a strict policy to only accept fashion models no smaller than size 8 and well-proportioned. Obviously, this one somehow managed to slip her bony arse through the net...

Now, some of you may think that being a tad smaller than size 6, I've got no right to talk...But I'm just thin...NOT skeletal.

I have meat on my bones, and fat (hopefully some muscle too...though the weight-training has lapsed a bit) in all the right places. I've never tried to starve myself (I love food too much...I'd rather die than diet...unless it's the type that helps me gain a few pounds), what goes into my gut moves in the right direction (down, not up), and even doctors agree I haven't got any weight-related health problems because my dimunitive dimensions are hereditary. Not all of us skinny folk deserve the sort of comments we get in the fitting room.

Correct me if I'm wrong, but because people are getting bigger, dress sizes have had to expand to accommodate the new and improved British woman. A size 12 from years ago would have been smaller than what it is now...On top of that, we have introduced sizes that go up to 34, and that's just gonna continue increasing as the fat lady keeps singing (or should that be 'eating'?).

So it's baffling that people are actually horrified we now have to invent a size 0 (or size 4 to us Brits) for thin people.

Is being underweight somehow MORE dangerous than being obese?

Or maybe with all the plus-sized Mama Sitas taking up so much room, there just ain't any space left in the market for skinny chicks.

I think it's high time more of a niche is created for those of us 'noughties'...Lord knows there's already enough apparel out there catering to the big and beautiful.

Limited Choices for Small People:
Reet Petite
Dainty Ladies
Petite Affair
AA Lingerie
Little Women
Small Measures
Ladies Petite Clothing
Personal Petite Shopper

PS - The term 'petite' does not always refer to slender women, but to those of various shapes and sizes under 5'3".
Labels: Beauty, Culture, Entertainment, Fashion, Lifestyle, Media, Personal